finder – Selektor NT BiH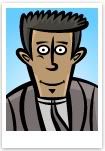 Obratio nam se i novi selektor za NT Blog, a evo šta kaže:
Postovana zajednico,
nakon iznimno zanimljivih izbora, gdje su na megdan izašli mnogi vrli junaci HT-a, uz dozu srece, mudrosti, upornosti, kao pobjednik izadje moja malenkost. Raduje me cinjenica da se nisam odao lupanju casa po protivkandidatima, omalovazavanju protivkandidata kao i pocjenjivanju zajednice. Upravo postovanje prema svakom clanu nase zajednice, posvecivanje vremena i prostora za svakog usera, me i dovelo do selektorske pozicije. Budimo ljudi koji vole i cijene komunikaciju koja se oslanja na postovanje, razumijevanje, empatiju, to je preduslov da upoznamo jedni druge, da izvucemo ono najbolje jedni iz drugih.
Predstoji zanimljiv kvalifikacijski ciklus…, ujedno sam i optimist i skeptik, s razlogom smo se mi samo jednom kvalifikovali na SP, igracki kadar moze biti bolji, trebao bi biti bolji, ali sva inicijativa ok NT je individualnog karaktera, stoga me cini sretnim sto vas mogu informisati da imamo nevjerovatno vrijedan skauting tim, strasni su to momci. Hvala im.
Njemu želimo svu srecu u stvarima koje mu dolaze sa reprezentacijom i da uspješno odradi kvalifikacije.
Aktuelne teme na forumu u vezi NT BiH:
NT (želiš li reprezentativca?)