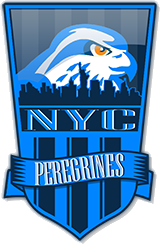 NYC Peregrines: The HTI Team of Lord Bebbington, and a quandry to say the least. NYCP are now in their second consecutive season as a newly-formed HTI team and yet they are in danger of becoming underachievers. Created on the 9th January 2017 in New York City, the Peregrines quickly engaged in purchasing young talents who were placed into wing training, primarily to bring profit for the purchase of further trainees.
On the 24th of January this year, they were knocked out of the inaugural HTI Cup in round 2. Not long after, on Valentine's Day, they were knocked out of the Ruby Challenger's Cup in round 3.
Peregrines competed in a few tournaments too. They took part in HTI Tour de Force and finished a measly 26th; they competed in HTI Rapido and did much better, finishing 1st in season one and 2nd in season two. In April, they took part in Hattrick International Cup and finished a respectable 3rd. The team were directly promoted on April 25th, finishing 3rd in the league and taking benefit of a promotion rule in season 1 of HTI.
In May, the team once again took part in the HTI Cup and were again eliminated in round 2. Equally, they were eliminated in round 3 of the Ruby Challenger Cup (again). So far, in the HTI ladder, they have managed to win only 23, and lost 55. Most HTI teams are now 100,000 TSI or above. NYC Peregrines stand just below 40,000 at the time of writing.
How then, to solve a problem like NYCP?
Ryan 'Hunter' Johnson
Roberto 'The Poet' Corrado
Theo 'The Wasp' Herrick
Catalino 'The Knife' Santillán
Josiah Funke (Quick)
Santiago Castilla
These players are full of potential though only one is blessed with a  speciality that could make that real difference. With that in mind, Boumann must look to the youth team in more depth. Coming up through the ranks are these players:
Joe Keith (Head)
Blake Poe (Technical)
Adam Mims-Friedman (Head)
Anthony Franck (Powerful)
Patrick Holmes (Head)
Shaun Obert (Technical)
Zack Mitts (Powerful)
Randolph Ellenburg (Powerful)
Jonah Hester (Unpredictable)
We spoke to Boumann about the players in the youth team, and his general plans for what will happen with NYCP should they relegate this season.
"We have nine players that we feel have a speciality that will enhance the first team, though some of these players are far from the finished product as you would expect at this stage of their development. Some might not make it. For now, we'll give them the chance. This means, of course, that some non-spec players in the current first team might find their places under threat, but that doesn't mean they won't have a role to play.

One of my goals has been to keep costs down, even if that affects results, and it may well be that I make further sacrifices in that area at the end of the season. It all depends on the final league placing."
NYCP are currently in the process of increasing their stadium size to 21,000 but again, this is a financial risk should the club relegate. A lot depends on the last two games, and right now NYCP sit in 6th place just one point above the drop zone. Next game up is against one of the top 3. Doesn't look like a win. Game after that? Against the team just below them. This might be an unavoidably disappointing end to the season, but Boumann still has hope.
"If we drop, we drop. Fuhgeddaboudit. We'll be back. We've listed one of our young talents in the hope that he will stay. I know that sounds odd. He's up for listing at a price above what he should bring, but in comparison to other players of his ability, the price is fair. I don't think anyone will bite, but if they do then we'll be financially stable should we relegate. If he stays, we'll still have one of our core key midfielders for next season's campaign."
A lot left to fate then, and we'll soon find out what that fickle finger will have in store.