Drammatic season start for TvsY FC, through 1st round in the National Cup after an incredible vicotory signed by penalty shots, against ASD Giardinieri United.

Here the exciting final moment of the match:
There was still no winner after 2-2 of 90'+30 minutes of extra time so the teams had to select a lineup for a penalty contest to settle the result.

Oh, the sweet feet of technical William Panduri… His left one gave Rabbia a lovely goal. 3 – 2.
Giardinier's Stefano De Giorgi was relaxed as he smoothly put the ball in the net. 3 – 3!
Rabbia's Matias Acurcio showed he has nerves of steel when it comes to penalty contests, easily changing the score to 4 – 3.
A confident Udi Zandberg of Giardinier put the ball right where he wanted, but Denis Basso Ricci was right there for the save. No goal.
Rabbia's Giuseppe Ruggerone coolly put the ball past Paolo Visentin. 5 – 3.
Giardinier's Dani Grimmelikhuijsen was seemingly taken by the gravity of the moment, and produced a badly struck penalty – right into the arms of Denis Basso Ricci. Score still 5 – 3.
Rabbia's Dumitru-Emanuel Petrescu kept his cool as he faced down Paolo Visentin. His composure paid off as he scored easily for 6 – 3.
Giardinier's Piotr Gadaczka made no mistake. Denis Basso Ricci didn't have a chance. 6 – 4.
Rabbia's Gian Carlo Cartasegna showed he has nerves of steel when it comes to penalty contests, easily changing the score to 7 – 4.
Overwhelmed by the pressure, Giardinier's Jussi Pokela put the ball right into the waiting arms of Denis Basso Ricci. The scores stays 7 – 4.
Coppa Italia 1° turno:
TormeVsYoshi FC – ASD Giardinieri United: 2-2 (7-4)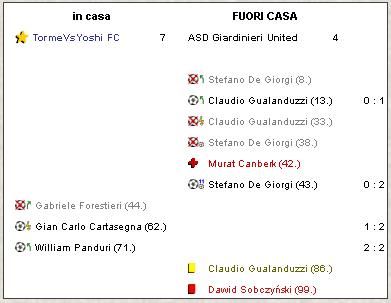 Mai come in questa gara "NEVER GIVE UP" il motto di TvsY FC, sembra calzare perfettamente allo spirito dei guerrieri scesi in campo.
Al primo turno di Coppa, grande prova per i nostri, che chiudendo il primo tempo in svantaggio di  2 reti, riescono poi a rimontare grazie ad una grande prova di carattere e agli assoli dei campioni in rosa.
Complimenti all'allenatore, che idovinando i cambi nel secondo tempo riesce a dare piu dinamicità al centrocampo dei padroni di casa.
I fari nel buio sono stati:
Serse Morini, che fa il bello ed il cattivo tempo sulla sua fascia di competenza, permettendo al 62′ a Gian Carlo Cartasegna di accorciare le distanze, 1 a 2.
William Panduri il nuovo acquisto voluto fortemente dal General Manager, che piedi meravigliosi quelli del trequartista, che dopo l'uscita di un Libero Domizzi sottotono e l'intuizione dell'allenatore che lo riposiziona nella zona del campo che piu lo esalta, sulla trequarti d'attacco, il fuoriclasse non si fà attendere dimostrando a tutto lo stadio esultante quali siano le sue capacità, incanta la difesa avversaria insaccando il gol del pareggio.
Scadono i 90′ regolamentari sul 2-2.
Grande nervosismo nei tempi supplementari con rissa in campo, ed espulsione al 99'per Dawid Sobczynski per le file della squadra ospite.
La conclusione dei tempi supplementari, in vista dei rigori, vede l'ingresso della legenda Giuseppe Ruggerone osannato dal pubblico di casa.
La partita si chiude definitivamente ai rigori, dove prevale la maggior esperienza dei giocatori di TvsY FC, grazie al goal decisivo dal dischetto della bandiera di questa squadra,
Giuseppe Ruggerone, vittoria 7-4, i tifosi al Caneda Stadium si scatenano!
Ai microfoni nel dopo partita l'autore del pareggio
William Panduri
 commenta:
Ci godiamo la vittoria ma gia da domani si pensa alla durissima
partita contro Non Mollare Mai in campionato.
L'
allenatore
intervistato a fine gara visibilmente esultante dichiara:
Vado matto per i piani ben riusciti.