While the real new year festivities won't start in Korea until Seollal arrives on 23 January, fans of AS Uijeongbu 07 were presented with an end-of-the-year gift on Friday when the latest expansion to Waegari Park was officially unveiled to the public. The latest redevelopment sees capacity at the Au7 home ground increased to 64,000 and makes Waegari Park the second largest stadium in the Golden League behind Ini Kandang Kito of Indonesian side Srivijaya.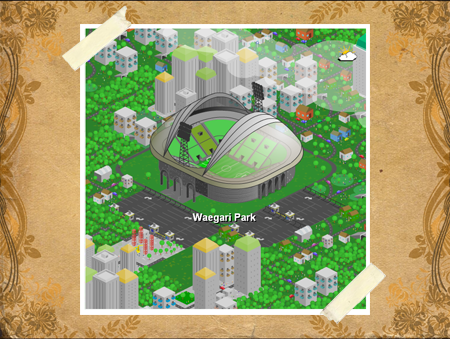 Waegari Park has been the home ground to AS Uijeongbu 07 since the club were founded by manager paquebot in local season 29, a period of time currently spanning six seasons. Named after the numerous herons (Korean: 외가리; waegari) that can be found within the area, Waegari Park was initially constructed as a 12,000 seat ground before seeing a series of rapid expansions in recent seasons.
Perhaps the most notable match to take place at the ground to date is the club's quarter-final appearance in the Korea Cup. The match saw AS Uijeongbu 07 host Asclepius FC in a game that remained scoreless until the 82nd minute, with the home side eventually suffering a narrow 0-1 defeat against the visitors from Seoul. The stadium has also hosted one U-20 national team match, a friendly between Korea and Singapore that the Taeguk Warriors won 2-0.
One unique aspect of the club's stadium is the Morbier Stand and its associated fromagerie, introduced following preliminary architectural input from beatleboyo, manager of French side Ben's Frogs FC. Both the stand and fromagerie were constructed during a November 2010 stadium renovation and the fromagerie in particular has quickly become a popular destination on game day. The Morbier Stand is easily identifiable by its swamp green color, chosen to highlight the goodwill that exists between AS Uijeongbu 07 and Ben's Frogs FC.
The AS Uijeongbu 07 youth academy project – Chosun Young Boys – is located nearby and hosts matches at the Chosun School of Excellence & Badminton Club, with a seating capacity of 300.